Vietnams seafood exports hit record high in 2017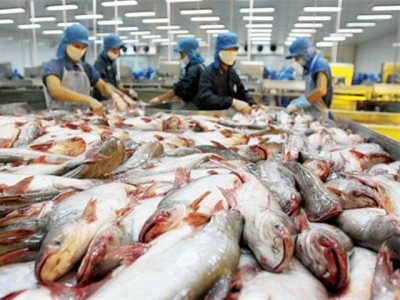 Publish date:
Tuesday. February 27th, 2018
---
Vietnam has gained an all-time high of seafood export value last year and is hoping to drive the sales value to a higher level in 2018.
The country exported seafood volumes worth USD 8.3 billion (EUR 6.8 billion) in 2017, jumping 18 percent year-on-year to its highest all-time level, according to latest data from Vietnam Customs. The figure is much higher than a previous target of USD 7.1 billion (EUR 5.78 billion) for 2017 set by Vietnam in December 2016.
Buoyed by the better-than-expected result, the country will try to achieve seafood exports of USD 9 billion (EUR 7.3 billion) this year, up 8.2 percent from 2017, Vietnam's vice minister for agriculture, Vu Van Tam, said at a press conference in Hanoi last week, according to a report from state-run Vietnam News Agency.
Shrimp and pangasius are Vietnam's two major seafood export products. In 2017, the export value of shrimp rose 21 percent year-on-year to USD 3.8 billion (EUR 3.11 billion), while that of pangasius increased nearly four percent from 2016 to USD 1.8 billion (EUR 1.47 billion).
Vietnam's total seafood exports rose in value from USD 1.5 billion (EUR 1.2 billion) in 2000 to USD 5 billion (EUR 4.1 billion) in 2010 and USD 7.8 billion (EUR 6.36 billion) in 2014 as it expanded shipments to both the United States and the European Union, despite various market barriers including a more rigorous inspection regime recently instituted in the United States.
Vietnam Association of Seafood Producers and Exporters (VASEP) said its trade with the U.S. has risen steadily following the signing of a bilateral trade agreement between the two countries in 2000. But recent bureaucratic moves in the U.S. have halted an expansion of trade, it said. For example, Vietnam's exports of pangasius to the U.S. declined sharply in 2017 after the United States imposed higher anti-dumping tariffs and began carrying out stringent inspections.
On 12 September, 2017, the U.S. Department of Commerce decided to preliminarily raise the anti-dumping duty on Vietnam frozen pangasius fillets to USD 2.39 (EUR 1.95) per kilogram under its most recent administrative review of the antidumping duty, tripling the previous rate. In addition, since 2 August, 2017, the Food Safety and Inspection Service (FSIS), operating under the U.S. Department of Agriculture (USDA), has inspected every single catfish shipment entering the U.S. at inventories, also known as I-houses, managed by the USDA.
Despite the higher rate of inspections, U.S. imports of Vietnamese seafood were still significant. The United States ranked second in the amount of seafood it bought from Vietnam in 2017 with imports worth USD 1.4 billion (EUR 1.2 billion), down 1.9 percent year-on-year.
However, Vietnam's trade with the E.U. was actually more significant than its U.S. trade, with the E.U. becoming the top destination for seafood products from Vietnam in 2017 for the first time. Vietnam exported seafood volumes worth USD 1.4 billion (EUR 1.2 billion) to 14 major buyers in E.U. in the year, up 22.1 percent from 2016, according to the data.
According to Tam, a top priority for Vietnam's agriculture and the country's seafood industry must be working get the E.U. to revoke the so-called "yellow card' imposed by the European Commission in 2017. The yellow card was handed out in October 2017 in response to the country's shortcomings in dealing with domestic IUU fishing problems; Tam said he would like to see the yellow card withdrawn by June 2018.
Vietnam's seafood trade within Asia surged in 2017, reaching a combined export value of USD 4 billion (EUR 3.2 billion), 28 percent higher year-on-year.
Vietnam exported seafood to seven countries and two territories in Asia in 2017, it reported. Japan was its biggest export market last year, rising 18.6 percent year-on-year to USD 1.3 billion (EUR 1.1 billion) in value, followed by China with USD 1.1 billion (EUR 892 million), jumping 59.4 percent from 2016, according to the data.
---
Related news
Biology pioneer wins for work on fish
A contest for research and technology students on the use of basa catfish fat for producing environmentally-friendly bio-plastics.
Friday. February 23rd, 2018

Exports of tra fish to UK increase
Tra fish exports to the UK were worth US$45.7 million last year, an increase of 2.5 per cent over the previous year
Monday. February 26th, 2018

Auspicious start for Vietnamese seafood exports to EU
The export of cuttlefish and octopus to the EU recovered from a 3.6 percent decrease in Quarter 4 of 2017, picking up 5 percent on a yearly basis.
Tuesday. February 27th, 2018