Vietnam raises rice export target for 2017 amid rising orders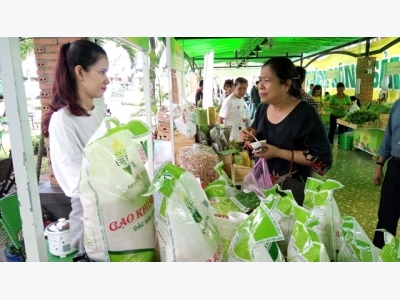 Publish date:
Saturday. September 30th, 2017
---
The Vietnam Food Association (VFA) has revised its rice export target for 2017 up to 5.6 million tonnes from the previous 5.2 million tonnes set in July, as export orders have grown continuously and reached a record high in August.
According to the Ministry of Agriculture and Rural Development, Vietnam's rice export volume in the first nine months of 2017 was estimated at 4.57 million tonnes, bringing in US$2.02 billion, up 20.8% in volume and 18.6% in value.
Such a strong rise in rice shipments was boosted by the growth in both governmental and commercial orders from China, Malaysia, Bangladesh and the Philippines.
Specifically, Vietnamese rice exporters have secured several contracts to provide 150,000 tonnes for Malaysia, 250,000 tonnes for Bangladesh and 175,000 tonnes for the Philippines.
Strong growth was also witnessed in new markets, such as Australia and a number of countries in Western Asia.
August was the month when Vietnamese rice traders reported the strongest growth, with a 70% increase in volume and 56.8% in value.
The month also witnessed a record high in new orders with nearly 842,000 tonnes in total, more than triple the volume in July and up 115% in comparison to a year earlier.
Vietnam's rice exports are expected to continue growing as the Bangladesh Ministry of Food recently announced plans to purchase 50,000 tonnes of parboiled rice.
Bangladesh has emerged as a new potential market for Vietnamese rice, as the two countries recently renewed a memorandum of understanding (MOU) in May in which Vietnam will provide the South Asian country with up to one million tonnes of rice each year for the 2017-2022 period.
Following the MOU signing ceremony, Bangladesh stated that it wanted to buy approximately 250,000-300,000 tonnes of Vietnam's 5% broken rice immediately.
The Philippines has also increased the quota on Vietnamese rice imports to 293,100 tonnes, while China is also expected to continue importing rice from Vietnam in order to meet its rising demand in the final months of the year.
---
Related news

Sustainable agriculture development in ASEAN integration
Improving the quality of agricultural products, ensuring farmers' interests, and sustainably developing agriculture in ASEAN topped the agenda of a just
Saturday. September 30th, 2017

Rubber exports increase significant but do not be subjective
After the crisis period 2012-2016, since the second half of 2016, rubber exports have recorded positive signals when the volume as well as export value
Saturday. September 30th, 2017

Vietnam spends heavily on fertilizer, pesticide imports
Fertilizer and pesticide imports, especially from China, have amounted to nearly US$1.7 billion in the year to September, the Ministry of Agriculture
Saturday. September 30th, 2017