Việt Nam seeks global help to lift agriculture sector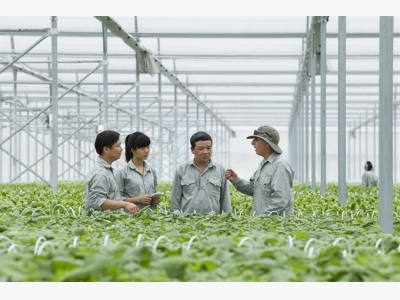 Publish date:
Saturday. September 9th, 2017
---
An Israeli expert talks with Vineco's staff at the company's Tam Đảo farm, in northern Vĩnh Phúc Province. — VNS Photo
HÀ NỘI — For the first time on August 25, Australia announced its agriculture strategy in Việt Nam, identifying economics, innovation and security as priorities in the agriculture co-operation between the two countries.
Such a move by Australia was the latest in international commitments in response to Việt Nam's calls for international support and co-operation in one of the key sectors of its economy.
The Government has been calling for reform in the agricultural sector for years to little avail, until a series of intense natural disasters hit Việt Nam last year. The fatal floods in northern and central Việt Nam, followed by prolonged drought in southern areas occurred in tandem with increasingly severe saline intrusion in the Mekong Delta - the largest rice producing region in the country. Such disasters left Việt Nam's agriculture sector - a key contributor to the country's economic development - with unprecedented minus growth for the first time in decades.
It was a big wakeup call to both the Vietnamese Government from central to provincial levels, and also society as a whole, of how vulnerable the country's traditional ways of working on the fields are to natural weather disasters in times of climate change.
The race to modernise the farming sector by applying more advanced technologies in producing, harvesting and post-harvest stages in an effort to reduce farmers' reliance on nature, started to heat up.
In addition to changes in land and capital policies, Việt Nam has approved plans to build ten agricultural zones applying high-tech methods in Hậu Giang, Phú Yên, Thái Nguyên, Quảng Ninh, Thanh Hóa, Khánh Hòa, Lâm Đồng, HCM City, Bình Dương and Cần Thơ provinces by 2020. The number is expected to more than double to 22 zones by 2030. In the meantime, several high-tech agricultural centres at a municipal level have started popping up across the country.
Vietnamese leaders constantly called and aggressively pushed lower levels to engage more in the sector's reform, while seeking technological and financial support from other countries.
Prime Minister Nguyễn Xuân Phúc this year paid State visits to Japan and the Netherlands, two of the leading countries in the agriculture sector, while Israeli President Reuven Rivlin also visited Việt Nam. President Rivlin visited the VinEco farm, which implements Israeli technologies to grow vegetables.
Dozens of meetings at ministerial levels and below between Việt Nam and several other countries that are strong in agricultural technology like Australia and South Korea, also took place. Vietnamese enterprises and farmers found new ways of farming through co-operation with international businesses or study trips to agriculturally-advanced destinations.
Agro-technology transfer
Israel was one of the most popular destinations.
"Israel has faced a lot of agricultural problems like climate change or lack of water and so does Việt Nam now," Israeli Deputy Chief of Mission in Việt Nam Doron Lebovich told Việt Nam News.
Lebovich believes that there is a win-win match between Israel and Việt Nam in agricultural co-operation.
"Israel is just a small country of 8.4 million people, well-known for cutting-edge agricultural technologies, and is seeking a big market, while Việt Nam is a huge market looking for a transition from traditional agriculture," he said. "Obviously, there is huge potential for the two".
"More and more delegates from the Government as well as the private sector have come to Israel to observe and explore the co-operation potential."
Most of Israeli business involvement in Việt Nam's agriculture sector so far has been technology transfer and consultancy in particular fields, Lebovich said.
These range from dairy and greenhouse, for example coordination with the Vietnamese dairy group TH, or the drip irrigation that by now is largely applied by many Vietnamese companies and farmers to tackle water shortages, and even aquaculture with new methods to run fish and shrimp farms.
Israel in 2007 signed an agreement with Việt Nam to offer some US$150 million in loans to Vietnamese enterprises which partner with Israeli ones, and upped the ante by another US$100 million in 2011. Such supporting aid has encouraged Vietnamese businesses to look for a partnership with the Israelis as they stepped into the long-neglected agriculture sector.
"In recent years, people have started seeing the potential of the Vietnamese market and so did Israeli businesses. But the biggest challenge to establish a partnership in Việt Nam is that it is very hard to find a good local partner," Lebovich said.
An indoor laboratory using LED light to boost the production of vegetables at HCM City National University, a result of co-operation between Vietnamese and South Korean experts. — VNA/VNS Photo Mạnh Linh
Sustainability focus
While Israel is a typical example of how Việt Nam can learn new farming methods and technologies to improve production in both quality and quantity, others like the Netherlands have a specific focus to support Việt Nam's agriculture sector.
"High-tech is sometimes spoken of like a magic formula. It's as if you have high-tech, everything can be solved. However, the focus should be on sustainability instead and high-tech methods are just a means to an end," Dutch Ambassador to Việt Nam Nienke Trooster told Việt Nam News.
Sustainability is a much more important concept to develop in agriculture, she added, while stressing the comprehensiveness of the concept mentioning the three P's – there should be benefits for People; protection of the Planet; and lastly Profits for businesses.
In order to support sustainable agriculture in Việt Nam, the Netherlands and Việt Nam signed a Strategic Partnership Agreement on Climate Change Adaptation and Water Management in 2010; and another on Sustainable Agriculture and Food Security in 2014.
"In that framework we will hold high-level governmental dialogues with Việt Nam every year to discuss how we can create the right conditions for (Việt Nam's) agriculture to strive. We are expecting the Vietnamese Agriculture Minister to attend the meeting in the Netherlands this fall," Trooster said.
An approach that is very successful in the Netherlands, she said, is to foster cooperation and consultation of four parties: the government, the private sector, knowledge institutes and civil society.
"What Việt Nam needs is a comprehensive strategy for different parties from central to provincial level, to work together in the sector. To organise such co-ordination well is not easy," she said.
---
Related news

Rice exports on sharp rise
Vietnam has set a rice export target of around 5.7 million tons. To meet the target, the country will have to export 1.74 million tons of rice
Thursday. September 7th, 2017

First batch of Vietnamese chicken to enter Japan in early September
This is the first time Vietnamese chicken products will be exported to Japan, one of the most demanding markets in the world
Thursday. September 7th, 2017

Hi-tech agriculture has to match specific needs
Hi-tech agriculture has been riding a new wave of investment in recent years, with the Government viewing technology as key to restructuring the sector
Saturday. September 9th, 2017