Việt Nam aims to boost export of shrimp to Asia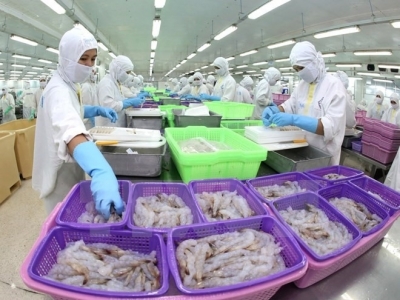 Publish date:
Tuesday. September 5th, 2017
---
Vietnamese shrimp producers need to build detailed strategies for every market. Specifically, it's necessary to pay attention to the trends and habits of consumers in order to issue specific plans to develop business effectively. — Photo Huy Hùng
HÀ NỘI — Asia will be a new market for Việt Nam's shrimp industry in the future, said Việt Nam Association of Seafood Exporters and Producers (VASEP) in HCM City on Tuesday.
The notice was released following a VASEP report showing the country's significant growth in shrimp exports to China, South Korea, Japan and ASEAN.
In the first seven months of this year, the country's exports to China increased 40 per cent compared with the same period last year. It also saw growth of 35.2 per cent to Japan and 27.4 per cent to South Korea.
Taking evidence from a UN report on the outlook for global urbanisation by 2025, EU market expert Carson Blake Roper said most large cities with large populations are in Asia, which will boasts a quickly growing middle-class.
The demand for products with high protein content, especially shrimp and fish, is increasing. This region has also signed up to many new free trade agreements, which will be a foundation to push up local trade, said Carson.
Chairman of Minh Phú Seafood Group Corporation (MPC) Lê Văn Quang said the consumption of shrimp in Asia would rapidly increase in the next few years. During which, China would take the lead in consumption because the country's shrimp raising area was currently narrow. A number of shrimp raising areas had been marked off to become residential areas, while diseases in shrimp had not yet been controlled – causing the local output of shrimp to fall while demand is expected to increase.
The demand for shrimp in Japan and South Korea are also on an upwards trend, said Quang.
However, to meet the demand of such markets, insiders said that Vietnamese shrimp producers needed to build detailed strategies for every market. Specifically, it is necessary to pay attention to the trends and habits of consumers in order to issue specific plans to develop business effectively.
Carson said Vietnamese businesses needed to build a supply chain and cold storage system in Asia. If they did not have suitable infrastructure, it would prove difficult for them to compete with rivals and sales efficiency would be low.
Diversification of shrimp products
Businesses are urging shrimp breeders to diversify the size of shrimp for export, which is seen as a way to help them compete with rivals. Almost all shrimp farms in Việt Nam have been focusing on shrimp from 15 units to 30 units per kilogramme, however, it's difficult for this size to enter EU and Japanese markets.
Quang said farms previously harvested shrimp at 30 untis per kilogramme, sometimes 20 units per kilogramme. Recently, they have been focusing on 15 units per kilogramme.
"With this size, Việt Nam's shrimp won't be able to enter difficult markets such as the EU and US because consumers there favour shrimp of 70-90 units per kilogramme."
Therefore, the shrimp industry must set up new development strategy, said Quang.
"Shrimp processing and exporting businesses need to guide breeders to produce one-off raising techniques but harvesting them many times across different sizes to supply different markets," said Quang.
With each pond of 1,500squ.m, the breeders can raise one batch. They will harvest for the first time after 50 days at a size of 70 shrimps per kilogramme, the second time after 80 days with a size of 40 units per kilogramme and the third time after 100 days with a size of 20 units per kilogramme. With this kind of harvest, the breeders can meet the diversified demands of the market.
General Secretary of VASEP Trương Đình Hòe said the country's shrimp materials were mainly of a bigger size in the second quarter of this year – leading to many exporters having to import smaller size for export processing to meet the demand of customers in the EU.
Added-value products
Chairman of Thuận Phước Seafood and Trade Joint Stock Company in Đà Nẵng, Trần Văn Lĩnh, said this year saw high growth in the shrimp industry, especially the export of shrimp material to China and Japan. However, if Vietnamese businesses just paid attention to shrimp exports, it would cause risks and not create added value.
Therefore, Vietnamese businesses need to improve the value of shrimp by diversifying processed shrimp products, reducing the export of shrimp materials. This is also a way to push businesses to develop clean production, including in the origin of products.
According to Deputy Minister of Agriculture and Rural Development Vũ Văn Tám, the shrimp industry has been put on the list of key products for export in Việt Nam. In particular, the Prime Minister has approved the southernmost province of Cà Mau to become a hub for tiger shrimp and the southern province of Bạc Liêu to be a production area for whiteleg shrimp, both of which will use high-tech processing techniques.
"We have plans to work with US universities to learn about the experience of producing high-quality brood stock and disease-resistant varieties. Meanwhile, localities will review and organise the production of shrimp in line with market demands of diversified sizes and diversified production to enhance the competitiveness of shrimp," said Tám.
---
Related news

Strong marketing strategy needed to bolster tra fish exports
A stronger marketing strategy coupled with substantial improvement in tra fish quality is needed to bolster the export of the fish as rough seas are still ahead
Friday. September 1st, 2017
Businesses optimistic over US inspection of Vietnam's tra fish
The US Department of Agriculture (USDA) has decided to check all shipments of catfish and tra fish imported from Vietnam as of August 2
Friday. September 1st, 2017

Seafood exporters set for good year
Seafood exports in the second half of the year are expected to rise by 11 per cent to US$4.46 billion
Tuesday. September 5th, 2017