Veterinarians key for poultrys big issues?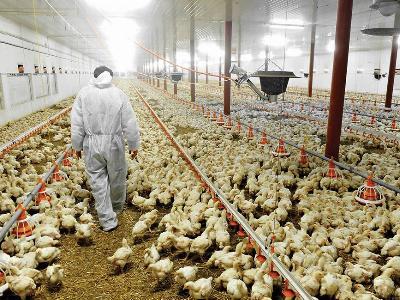 Publish date:
Friday. January 13th, 2017
---
Mark Clements' view of the world poultry industry with a British twist.
roibul, Bigstockphoto.com
Whether the issue is farm profitability, poultry welfare or antibiotic resistance, veterinarians may have a more central role to play
Might veterinarians be able to kill three birds with one stone? While veterinarians are usually more concerned with saving lives, they could, however, be instrumental in solving three of today's big issues – profitability, antibiotic resistance and poultry welfare – in one go.
Dr Siegfried Moder, president of the Federal Association of Practicing Veterinarians, speaking at the opening of trade fair EuroTier, said giving veterinarians a more central role in livestock production might just be the answer to bridging the gap between the conflicting pressures facing many of today's poultry producers.
Profitability
It is not rocket science, but the health of poultry, or any other farm animals, really is key to the success of any livestock business. According to Moder, every farm has a 10-30 percent untapped potential that is connected to health, and the way to access this potential is through regular veterinary flock checks.
Consumers want not only healthy, but cheap food, so raising prices is ever-less an option. In this scenario, maximizing profitability becomes ever more important. And as societal demands, which usually involve additional costs, are increasing, then helping animals to give maximum returns becomes essential.
A large number of animal health problems can solved prophylactically, if identified early enough, but expertise needs to be brought onto the farm to do this. A pair of expert eyes focused on a problem will inevitably lead to better decision making.
Antibiotic resistance
Where veterinary medicines are concerned, no poultry producer wants to waste money, so choosing the right products and applying them at the right time is essential. And it is in the judicious use of medicines that the veterinarians can help farmers confront the growing pressure to reduce antibiotic use and address concerns about antibiotic resistance. Good farm management can help to reduce the need for antibiotic treatments, but where they are needed, making the right choice can lead can not only reduce the volumes used, but also potentially reduce costs.
Poultry welfare
And healthy animals -- whether they be they broilers, layers, pigs or cattle -- in addition to performing better will have better welfare. The welfare debate will not be solved by veterinary involvement alone, but without good health there cannot be good welfare, and vice versa.
Consumers tend not to see intensive production as welfare friendly, but it is unlikely that the growing demand for meat will be met if all farms move to production methods that consumers support. Those rearing methods that consumers do support are not necessarily the best for a bird's health or welfare. Fault can be found with both intensive and extensive production methods but with the correct intervention those problems can be ameliorated.
Profitably producing more meat, with restricted inputs and, at the same time, addressing society's demands for animal welfare may seem to be three pressures that are irreconcilable. Giving animal health practitioners a greater role in livestock production may be one way to help make this possible.
Mark Clements is the editor of Poultry International. To contact Clements
---
Related news

5 pointers for profitable broiler production
Strategic issues that make or break a broiler enterprise should be evaluated at least once per year to ensure they don't become the source of otherwise
Friday. January 13th, 2017

5 ways to improve broiler feed efficiency beyond nutrition
After the feed arrives at the farm, there are five pointers that will help improve feed efficiency in broilers.
Friday. January 13th, 2017

How excess protein robs broiler profitability
Feeding excess protein is a common practice to keep feed cost low, but it ends up robbing profitability from the back door, as it reduces broiler productivity
Friday. January 13th, 2017