VASEP proposes urgent measures to regain EUs green card on seafood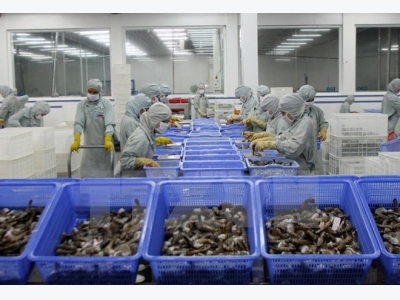 Publish date:
Thursday. November 2nd, 2017
---
The Vietnam Association of Seafood Exporters and Producers (VASEP) has proposed urgent measures to avoid receiving the European Commission (EC)'s "red card" warning after six months of a "yellow card" it has applied on Vietnam's seafood, towards re-winning the "green card".
In a document recently sent to leaders of the National Assembly, Government and Ministry of Agriculture and Rural Development (MARD), the VASEP asked for double examination of the draft revised Law on Fisheries before it is approved to ensure that the EU and experts' recommendations are considered.
The association held that the revision, along with a letter sent by Minister of Agriculture and Rural Development Nguyen Xuan Cuong to the EU on October 20 asking for the clarification of the union's recommendations, is the most important step and a chance for the bill to be completed, meeting the common trend of the world and the EU.
VASEP also suggested the formation of a working team for unreported and unregulated (IUU) fishing to be headed by a MARD leader and involved representatives of some ministries and associations, including the VASEP, focusing on activities to avoid receiving a "red card".
It also suggested Minister Nguyen Xuan Cuong heading a delegation to work with EU representatives in Brussels, Belgium on IUU issues in November this year.
At the same time, the VASEP also proposed the organisation of a conference on IUU "yellow card" and the building of a six-month plan, gathering representatives of some ministries, sectors and businesses.
In a recent release, the European Commission gave the six-month "yellow card" warning to Vietnam's seafood as it found that Vietnam is not doing enough to fight illegal fishing.
As scheduled, the EU will re-evaluate Vietnam's efforts and improvement in IUU fishing. If the results are positive, Vietnam will receive another six-month "yellow card" after granting the country a "green card". Otherwise, a "red card" may be applied, which means Vietnamese seafood is banned in the EU market.
---
Related news

Viet Nam vows to combat IUU fishing
During this time, seafood export activities will be still in place. However, there will be some impacts such as: increased inspection on imported products
Wednesday. November 1st, 2017

Corporate social responsibility - Key to fishery development
The practice has become necessary for any firm wanting to build a strong brand and gain a foothold in the global market
Wednesday. November 1st, 2017

Vietnamese seafood enterprises effort to remove the yellow card
The enterprises worried that the EU withdrew the yellow card for Vietnam at the end of the year – the peak period of exporting goods that would impact strongly
Wednesday. November 1st, 2017