Trà Vinh farmers lend farmland for free to poor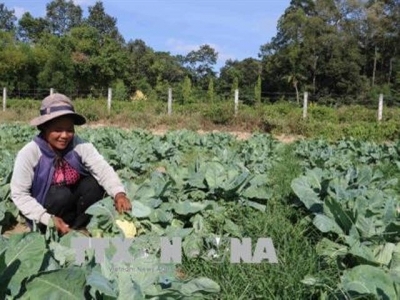 Publish date:
Tuesday. May 29th, 2018
---
Ho Chi Minh City – Farmers in southern Trà Vinh Province are lending their land for free to poor farmers as a way of helping families escape poverty.
Farmers in southern Trà Vinh Province are lending their land for free to poor farmers as a way of helping families escape poverty.– VNA/VNS Photo
Dương Phắc Ra Đây in the province's Duyên Hải District, for example, earned a profit of VNĐ15 million (US$600) from his harvest of bird's-eye chili crop on a 2,000sq.m of land which was lent to him by Thạch Tài, a farmer in Duyên Hải's Ngũ Lạc Commune.
Đây is one of many farmers in the Cửu Long (Mekong) Delta province who have borrowed land from fellow farmers in recent years. As a result, many poor farmers have been able to escape poverty.
"I appreciate the help of my neighbour. It encouraged my family to strive for a better life," Đây said.
Before receiving the land, Đây had worked as a daily hired labourer, struggling to earn enough for his family.
In Trà Vinh, more than 1,000 farming households have lent a total of 600ha of farmland to nearly 1,400 poor farmers, helping many households escape poverty, according to the province's Ethnic Affairs Committee.
The province has more than 23,000 poor households, accounting for 8.4 per cent of the total households. It targets reducing the poverty rate by 2-2.5 per cent a year.
Farmers who lend land are classified by authorities as either near-poor or fairly well-off.
Tài of Ngũ Lạc Commune, who is a near-poor farmer and has 6,000sq.m of farmland, said his rice field often lacked irrigation water in the dry season, so the yield of rice was not high.
With guidance from local agriculture officials, Tài switched to one rice crop and one bird's-eye chili crop a year beginning in 2014. Since then, he has had a stable income.
Knowing Đây's family difficulties, Tài last year decided to lend Đây 2,000sq.m of his farmland to plant bird's-eye chili in the dry season.
"I was happy to see that his family could earn more income," he said, adding that he would continue to lend his land to Đây to grow the chili variety.
Thạch Thị Hồng Nghĩa, who has 4,000sq.m of farmland in Ngũ Lạc Commune, has lent 2,000sq.m to poor neighbouring farmers since 2013.
Ngũ Lạc, one of the poorest communes in Trà Vinh, has 4,200 households with a total of 18,000 people. Of the households, 64 per cent are Khmer.
In the 2015-17 period, the number of poor families fell by 580. Many of them had borrowed land from other farmers.
Farmers with available land lend their land to poor farmers to grow crops in the dry season or year round.
Dương Văn Liệu, secretary of the Ngũ Lạc Commune Party Committee, said about 100 farming households were lending a total of 30ha of land to poor farmers.
---
Related news

Sorghum hormone work may provide key to improve feed grain production
Sorghum researchers may have found a way to double the number of grains produced by a plant and the hormonal pathway that controls the process, says researcher.
Monday. May 28th, 2018

Phu Tho boosts agriculture production
The northern midland province of Phu Tho has much potential to develop an economy based on hills, forests, and craft villages.
Tuesday. May 29th, 2018

Hau Giang uses more RoK biological products in cultivation
Mekong Delta province of Hau Giang to increase the use of biological products of the RoK for growing pineapple, pomelo and mango
Tuesday. May 29th, 2018