Streamlining credit flows for hi-tech agricultural development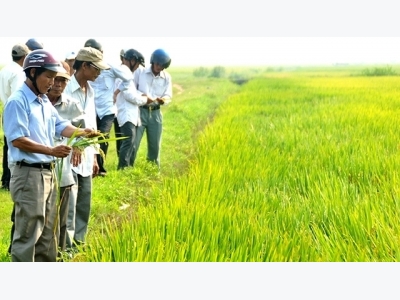 Publish date:
Wednesday. July 12th, 2017
---
Local farmers inspect a high-yield rice production model in Phu Luong Agricultural Cooperative, Phu Vang district, Thua Thien-Hue province. (Credit: NDO)
Despite positive achievements, Vietnam's agriculture, particularly hi-tech agricultural sector, is still facing difficulties in accessing loans for further development.
Vietnam is among the leading exporters in the world of pepper, rice, coffee, cassava, rubber, sea food and tea. Notably, thanks to the application of advanced technologies, the export turnover of vegetables and fruits in the first six months of 2017 reached US$1.5 billion with the annual figure expected to reach over US$3 billion, exceeding rice exports for the first time and making the list of Vietnam's major agricultural exports longer.
To further facilitate agricultural development, hi-tech and organic agriculture is a focus, but enterprises are facing barriers in accessing credit flows.
According to the State Bank of Vietnam, outstanding loans for agricultural and rural development as of the end of May 2017 reached nearly VND1.15 quadrillion, up 9.9% against the end of 2016 (higher than the credit growth of 7.06% of the economy), accounting for about 19% of total loans of the economy.
Total outstanding loans for hi-tech and organic agriculture reached nearly VND32.4 trillion, with 4,125 outstanding customers (3,957 individual customers, 168 enterprises), of which hi-tech agricultural loans were over VND27.7 trillion (accounting for nearly 86%) and organic agricultural loans at VND 4.6 trillion, without bad debt.
To date, aside from Decree No. 55/2015/NÐ-CP, that has brought about a range of breakthroughs in credit policy to encourage agricultural production under linkage models and applying high technologies in agricultural production, the country has eight commercial banks committed to providing more than VND100 trillion in loans at a lower interest rate of 0.5 to 1.5% per annum than other lending programmes.
In particular, the Vietnam Bank for Agriculture and Rural Development has issued a preferential credit package of VND50 trillion for hi-tech and organic agriculture, with interest rates ranging from 0.5-1.5% per annum in comparison to normal lending rates.
However, the above mentioned agricultural development loans are without support from the State and interest rate incentives are only seen in commitments, leading to concerns from many businesses over the conditions of access to the credit flows, especially in interest rates, collateral and loan terms.
The material-technical facilities (greenhouses, irrigation systems and other assets) invested by enterprises have not yet been considered eligible assets for issuance of a certificate of ownership of property on agricultural land, making it difficult for them to carry out procedures for registration of secured transactions and mortgage of loans at banks.
Moreover, it is also difficult for banks and businesses to find a common voice as the evaluation and classification of hi-tech and organic agricultural projects are mainly qualitative criteria.
There is a paradox that if borrowers do not have access to finance, it will be difficult for them to be eligible in term of financial capacity to form supply and linkage chains so that they have good products to sign output stabilisation contracts; while banks only lend when there is a stable chain link and output.
The above issue has the potential to halt the operations of both borrowers and lenders if there is no necessary support from the State.
The specialty of hi-tech farming projects is large scale, capital intensive, prolonged deploying time, long recovery period, slow capital turnaround, low profit and high risk. Businesses themselves also have limited capacity in demonstrating mortgage or the projects' feasibility and stable income to be eligible for loans.
Moreover, the structure of mobilised capital of banks with medium and long term capital is low; while banks are also constrained by short-term capital mobilisation rates for medium-term and long-term loans and other credit security principles, so they are less likely to spend capital for medium and long term loans.
Without a special support mechanism to remove capital constraints, very few businesses have the ability to invest, even if they have the desire to in this area.
In fact, on Vietnam's agricultural development journey to turn from a small scaled and spontaneous production to hi-tech agriculture in an effective and sustainable way, there is a need for synchronised support solutions on land planning, market demand assessment and forecasting, brand building, product quality assurance, facilitating trade promotion activities and especially ensuring credit sources for production development.
In particular, the focus should be identifying and solving difficulties and streamlining banks' credit flows; at the same time, ensuring the management of bad debt and keeping the system safe in the context of increased competition and integration.
---
Related news

Deputy PM Hue commends agricultural cooperatives in Lam Dong
He said the government is paying special attention to developing and expanding production linkage models to help farming households raise their income.
Wednesday. July 12th, 2017

Loans remain inaccessible for farmers
The government has promised to provide loans to support the development of hi-tech agriculture, but farmers say bank loans are still out of reach.
Wednesday. July 12th, 2017

Vietnam to promote high quality rice to boost export revenues
Vietnam has outlined plans to boost revenues from rice exports over the next decade by focusing on a higher quality product and selling more outside Asia.
Wednesday. July 12th, 2017