Seafood shipments to EU drop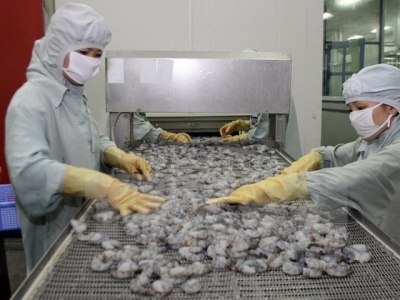 Publish date:
Thursday. May 31st, 2018
---
Ho Chi Minh City (VNA) – Shipments of seafood, excluding fish, to many markets, especially the European Union (EU), showed signs of reduction recently, according to the Vietnam Association of Seafood Exporters and Producers (VASEP).
Illustrative image (Source: VNA)
The association's statistics showed the export value of tuna in April dropped nearly 4 percent from the previous month. The decline was 10 percent in the European market.
Also in April, export of cuttlefish and octopus to the EU fell by 41 percent and that of bivalve down 19 percent.
VASEP Secretary General Truong Dinh Hoe attributed the decreases to a lack of raw materials, as only a modest portion of domestic supply can meet requirements on origin.
Statistics of the Ministry of Agriculture and Rural Development showed tuna output in the three main fishing provinces reached 7,400 tonnes in the first four months, down 14 percent year on year. Binh Dinh province reported the biggest decrease of 18 percent.
Director of the Sai Gon Vinh Thuan Seafood Company Tran Ngoc Tuoi said domestic supply can meet only 40 percent of her company's capacity, while EU importers only accept products originating in Vietnam's waters. The lack of materials has affected the company's revenues.
The decrease in seafood exports to the EU showed that the EU's yellow card on Vietnam due to IUU (illegal, unreported and unregulated) fishing had begun to exert negative effects on shipments to this market.
According to VASEP, domestic exporters are making efforts to meet the EU's requirements related to IUU, but a lack of experience in conducting procedures in the field has affected export activities, especially the export of products that are sourced from many ships and localities.
On October 23, 2017, the European Commission issued a "yellow card" warning to Vietnam, after the country failed to demonstrate sufficient progress in the fight against IUU fishing.
According to EC's requirement, the Vietnamese seafood sector had to implement nine recommendations during six months from October 23, 2017, to April 23, 2018.
A delegation of the European Commission (EC) is visiting Vietnam from May 15-24 to inspect the outcomes of the country's measures to control illegal, unreported and unregulated (IUU) fishing.
After the inspection, the EU will give its final decision over whether it seeks to withdraw the "yellow card" from Vietnamese offshore seafood.
---
Related news

Farmers in Mekong Delta rush to sell shrimp as price falls
The Ministry of Agriculture and Rural Development has warned shrimp farmers to remain calm and refrain from selling large batches of white-legged shrimps
Wednesday. May 30th, 2018

Giant river prawns recover after long decline
After a long period of decline, the last two years have seen an increase in output of giant river prawns in the Mekong Delta.
Wednesday. May 30th, 2018

Tra fish exports to China continue to thrive
Vietnam's tra fish (pangasius) exports to China continued to record year-on-year strong growth of 43 percent to 145 million USD in the first four months of 2018
Thursday. May 31st, 2018