Seafood exports target forecast to achieve one month ahead of schedule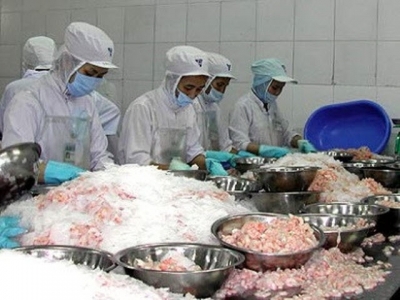 Publish date:
Monday. December 11th, 2017
---
This year's seafood export turnover is forecast to expand by 6% to US$7.4 billion when compared to last year's figure, and is set to fulfill its target one month ahead of schedule despite facing a number of notable difficulties.
In 2017, seafood exports are encountering difficulties due to low market demands and stringent technical barriers set by major importers.
According to initial statistics from the General Department of Vietnam Customs in the ten months leading up to mid November, aquatic export products have brought in over US$7.2 billion in revenue and seafood export turnover in November alone is estimated at US$728.118 million, thus lifting the 11 month turnover to US$7.565 billion in total and surpassing the set target by US$156 million.
At present, there has been a change in the ranking of Vietnam's four major export markets-the EU, the US, Japan and China when the EU replaced the US to become the biggest buyers of the country's aquatic products. Over the past ten months, exports of aquatic products to major markets saw positive growth against last year's corresponding period.
Specifically, seafood exports to the EU in October rose 37.5% to US$168.803 million over last year and up 8.84% from a month earlier. In the first ten months of the year, seafood exports to the EU market surged an impressive 21.2% to US$$1.215 billion.
This is the first time that the EU has become the No 1 destination for Vietnam's aquatic products. Within the EU bloc, the Netherlands has posted the strongest growth with seafood export turnover to the Dutch market in October alone grew 80.3% against last year's same period, bringing total export value in ten months to US$243.668 million, up 43.8%.
Meanwhile, the US the former largest market for Vietnam's aquatic products, dropped to the second place due to slower growth and a slight reduction of 2.5% in turnover. The main reason behind this is that the US Department of Commerce (DOC) has imposed high anti-dumping tariffs on Vietnam's shrimp and tra fish industries, making these products lose their competitive edge when compared to other significant rivals.
Seafood exports to the Japanese market have soared 21.8% and are projected to maintain this high growth rate thanks to price hikes in the Japanese Yen (JPY) against other foreign currencies.
Despite fast-growing consumption demand of aquatic products in China, the domestic supply fall short of meeting these demands
To meet domestic consumption demand and ensure material resources for seafood processing plants, seafood import encouragement policies have been adopted by the Chinese Government to reduce the catch numbers of aquatic products to protect the fisheries sources and manage them more sustainably, thus facilitating Vietnam's seafood exports to the highly lucrative market.
Value-added products lead to increasing turnover
Truong Dinh Hoe, Secretary General of the Vietnam Association of Seafood Exporters and Producers, attributes the shrinking seafood export turnover to the US to strict technical barriers and high anti-dumping duties on tra fish and shrimp, which have adversely affected export activities and resulted in falling export turnover from this large market. However. positive growth in other major markets have made up for the decrease in export earnings from the US market, Hoa notes.
Mr Hoe highlights the EU's strengthened import of Vietnamese shrimp, especially processed products of high added value and impact of Vietnam-EU Free Trade Agreement (EVFTA to take effect in 2018 as contributory factors to Vietnam's increased export turnover to the EU.
Local businesses have managed themselves to boost exports and secured a firm foothold this profitable market, which begins to focus on higher imports of Vietnamese goods
The export volume of seafood has seen no high increase this year but the value is on an upward trend as businesses have concentrated more on producing high-added value export products, primarily targeting the EU market, thus accelerating the finalization of seafood export turnover target one month ahead of schedule, Mr Hoe explains.
Despite still being the primary destination for Vietnam's seafood exports, the EU's recent issuance of a yellow card warning to Vietnam over its exploitation of fisheries will deal a significant blow to Vietnam's seafood turnover into the EU next year.
Therefore, the seafood industry along with government agencies need to take drastic actions to avoid the risks of being dealt with a 'yellow card' and a 'red card', which would greatly affect next year's export plan.
---
Related news

Vietnam enjoys strong growth in shrimp exports to RoK
The RoK is currently the fifth largest market of Vietnamese shrimp after the EU, Japan, China and the US.
Thursday. December 7th, 2017

Vietnam tuna exports exceed yearly target
The Vietnam Association of Seafood Exporters and Producers (VASEP)'s target of 524 million USD in tuna exports for the year has been completed early
Saturday. December 9th, 2017

VASEP: Tra fish exports to Spain continue falling
Vietnam's tra fish exports to Spain see no sign of recovery following inaccurate news broadcast by Spanish media early this year
Saturday. December 9th, 2017