Seafood exports grow sharply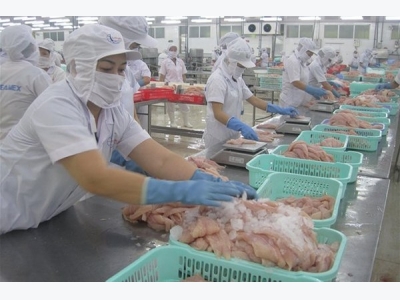 Publish date:
Wednesday. December 27th, 2017
---
Workers are processing tra fish at a plant in the Mekong Delta. Seafood exports this year are expected to exceed US$8 billion - PHOTO: TL
Ho Chi Minh City - Vietnam had exported US$7.6 billion worth of seafood in the year to end-November, up 18.9% over the same period last year, Nguoi Lao Dong newspaper quoted a report of the General Department of Vietnam Customs.
Although the U.S. market posted a mild decline of 1.7%, four other large markets, namely the EU, Japan, China and South Korea, registered growth of over 20%. Therefore, total export turnover of seafood may exceed US$8 billion in all of this year.
Last year, China spent US$860 million importing seafood from Vietnam, but the number surged to more than US$1 billion in January-November this year, making China one of Vietnam's seafood importers with turnover of over US$1 billion. Among other major markets were the U.S. with US$1.3 billion, the EU with US$1.25 billion and Japan with US$1.19 billion.
Tran Van Linh, chairman of Thuan Phuoc Seafood and Trading JSC, said China's demand has surged, offering more opportunities for local exporters when Vietnamese tra fish exports to traditional markets such as the U.S. and the EU have faced difficulties.
Despite many obstacles in traditional markets, Vietnam can generate US$1.8 billion from tra fish exports, and the robust growth is mainly attributed to more shipments to the Chinese market.
Hang Van, deputy director of Truong Giang Seafood JSC, said China is Vietnam's biggest tra fish buyer now with a market share of 23%. Tra fish price is forecast to remain high in the next three months as the neighboring country has high demand for the product.
According to the Export-Import Department under the Ministry of Industry and Trade, seafood shipments via Mong Cai border gate have increased significantly as exporters are shipping high-quality products to China to meet the demand of Chinese consumers at the end of the year.
However, some Chinese traders have bought poor quality seafood from Vietnam and supplied to their market with fake certificates, negatively affecting Vietnamese seafood exporters' prestige. Therefore, authorities should take measures to tackle the problem, ensuring the sustainable development of the sector.
Material tra fish price has hit a record high of VND28,500-29,000 a kilogram, resulting in a profit of VND5,000 per kilogram for farmers.
Meanwhile, prices of tiger and white-legged shrimp in Ca Mau Province, which is the country's largest shrimp producer, have increased considerably since early September to VND210,000-215,000 (US$9.25-9.47) and VND104,000-105,000 per kilogram respectively.
Besides, the shrimp farming area has also expanded, leading to high seafood output to supply processing plants and higher income for farmers.
Ngo Thanh Linh, general secretary of the Ca Mau Association of Seafood Exporters and Producers (CASEP), said most shrimp processing plants in the province are in dire need of material as farmers could meet only 40-50% of the demand. Due to high prices, enterprises find it hard to import material shrimp from other countries.
As of November, Vietnam had exported nearly US$3.5 billion worth of shrimp, up nearly 22% year-on-year. The figure may reach US$3.8 billion this year, rising 20% over last year.
Vietnamese shrimp exports to the EU have grown nearly 22% this year as shrimp of India, which ships a large volume of the product to the bloc, was found contaminated with banned antibiotics, said Tran Van Linh.
---
Related news

Vietnam's seafood industry reacts to 'yellow card' from EU
While seafood exporters try to help themselves, the whole industry, from the national seafood association to provincial authorities, are also working to improve
Friday. December 22nd, 2017

Tra fish exports raising in the last month of the year
The price of raw material sharply increases and Tra fish exports have risen in the last months of the year.
Saturday. December 23rd, 2017

Switzerland imports over 50% shrimp from Vietnam
During the 10 year period 2007 2016 Vietnam was consistently the largest shrimp supplier for Switzerland accounting for over 50 percent of total Swiss shrimp
Tuesday. December 26th, 2017