Saudi Arabia allows resumption of Vietnamese seafood imports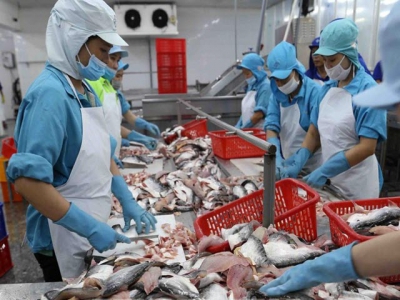 Publish date:
Saturday. January 9th, 2021
---
After a suspension lasting over two years, Saudi Arabia has allowed 12 Vietnamese businesses to resume export of seafood products to its markets, said the Ministry of Industry and Trade's Asia-Africa Market Department on September 15.
Vietnamese seafood enterprises need to strengthen inspection and supervision of seafood production to ensure product hygiene and safety
The ministry said the Embassy of Saudi Arabia in Vietnam recently sent a note to Vietnamese authorities, notifying them of the Saudi Arabian Food and Drug Authority's (SFDA) decision.
According to the Asia-Africa Market Department, the move opens up a new direction for the domestic seafood industry amid difficulties caused by the Covid-19 pandemic. The ministry will continue to work with the Saudi Food and Drug Authority (SFDA) toward complete removal of the ban on the import of Vietnamese seafood.
In January 2018, the SFDA decided to temporarily suspend the import of fish and shrimps from Vietnam.
The ban, effective from March 1, 2018, was in accordance with the regulatory procedure for fish and other aquaculture imports, according to a note published on the Saudi Aquaculture Society's website.
The decision followed a December 2017 inspection by several regulators, including SFDA, Ministry of Environment, Water and Agriculture and Saudi Aquaculture Society of 24 Vietnamese seafood facilities that exported products to Saudi Arabia.
The Asia-Africa Market Department said Saudi Arabia has strict food hygiene and safety standards. Being a leading market in the Middle East, Saudi Arabia's policy moves could exert influence on other markets in the region. Economists say Vietnamese Tra fish and shrimp are facing strict environmental and disease control requirements in Saudi Arabia and other countries.
According to the Vietnam Association of Seafood Exporters and Producers (VASEP), Saudi Arabia imports seafood worth about US$60 million from Vietnam each year. The Ministry of Industry and Trade said Vietnamese seafood enterprises should strengthen inspection and supervision of the farming and production environment to ensure quality, hygiene and food safety for seafood exports in order to avoid a resumption of Saudi curbs.
The Ministry of Industry and Trade will continue working with the Ministry of Agriculture and Rural Development and related agencies to add Vietnamese businesses to the list of firms eligible for seafood exports to Saudi Arabia. This will help lift the suspension of seafood imports from Vietnam.
---
Related news

Standard pangasius exported to EU be distributed in Vietnamese northern provinces
On October 06, the first crates of pangasius produced upon the EU's standards arrived at Hanoi capital for distribution to northern provinces.
Friday. January 8th, 2021

Ho Chi Minh City use AI for health shrimp and fish monitoring
The researchers designed a software to connect with underwater sensing to learn about water, feed and promptly detect possible diseases vulnerable to fish
Saturday. January 9th, 2021

Shrimp farming in round cement pond brings high income
A round grow-out pond has a lot of advantages such as saving time, labor, costs, reducing disease outbreaks, preventing direct impact of storms, making shrimps
Saturday. January 9th, 2021