Reasons for Saudi Arabias suspension of seafood imports from Vietnam unknown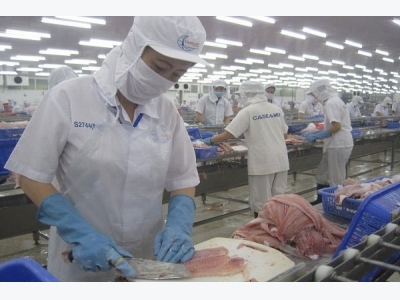 Publish date:
Friday. February 23rd, 2018
---
Tra fish is a key product which Vietnam exports to Saudi Arabia - PHOTO: TRUNG CHANH
CAN THO – The Vietnam Association of Seafood Exporters and Producers (VASEP) does not know why the Saudi Food and Drug Authority (SFDA) has suspended imports of seafood from Vietnam.
VASEP general secretary Truong Dinh Hoe told the Daily that VASEP has coordinated with the Ministry of Agriculture and Rural Development and relevant agencies to make preparations to work with SFDA. Vietnamese agencies will find out reasons and solutions to recover the Middle Eastern market.
If a product is banned from a market, possible reasons can relate to its quality or the capability of disease control by agencies in exporting countries. However, SFDA has not given any official reasons for its suspension.
Saudi Arabia is not a main market for Vietnamese seafood but an important one in the Middle Eastern region. It annually spends more than US$60 million importing seafood from Vietnam, mainly tra fish.
The suspension may affect the prestige of local products, said Hoe.
Tran Van Pham, chairman of Soc Trang Seafood JSC, said Saudi Arabia's suspension would not leave great impact on domestic shrimp exporters as this is not a large buyer of Vietnamese shrimp.
On January 30, SFDA announced the ban on all Vietnamese seafood products which has become effective since January 23.
According to VASEP, a SFDA delegation had inspected seafood farms in Vietnam and imposed the ban as white spot and acute hepatopancreatic necrosis diseases had been detected in Vietnam as provided in a report on aquatic animal diseases in the second quarter of last year by the World Organization for Animal Health.
---
Related news

Saudi Arabia to temporarily suspend Vietnamese fish imports
Saudi Food and Drug Authority (SFDA) has decided to temporarily suspend the import of fish and shrimps from Việt Nam.
Thursday. February 8th, 2018
Aquatic export surges in January
Fishery export value amounted to 560 million USD in the first month of 2018, up 15.6 percent from the same period last year.
Friday. February 9th, 2018

More firms hoped to ship aquatic products to Russia
More Vietnamese businesses may soon be allowed to export aquatic products to Russia this year after a Russian working group made a fact-finding tour of some
Friday. February 9th, 2018