Project improves coffee quality in Lam Dong Province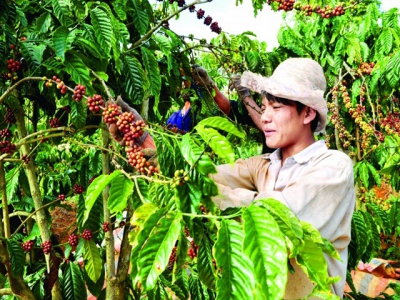 Publish date:
Thursday. September 17th, 2020
---
Lam Dong is one of five Central Highlands provinces selected by the Ministry of Industry and Trade for a key three-year project to improve the productivity and quality of coffee processing by rural industrial establishments.
Lam Dong focuses on developing coffee in the global agricultural chain
Coffee is a key industrial tree for the province's economic and social development. In recent years, Lam Dong has significantly expanded the cultivation area of UTZ-certified and 4C standard coffee. The province has also established five high-tech coffee growing areas in four districts, namely Lam Ha, Bao Lam, Lac Duong and Di Linh.
In order to enhance the value of this crop, the province has also promoted coffee development in the global agricultural chain and supported the application of modern machinery and equipment in processing.
The Department of Industry and Trade of Lam Dong Province was assigned to implement the project in 2018. It has since supported 44 rural industrial production establishments in applying advanced machinery and equipment for 12 facilities, but also mobilized 300 trainees at coffee processing enterprises to participate in training courses in order to enhance management capacity. Its total budget was VND3.4 billion.
According to the provincial Department of Industry and Trade, two years into its implementation, the project has yielded great economic efficiency, helping businesses improve products and competitiveness in the domestic market as well as in export markets. The project has also attracted VND10 billion in reciprocal capital from beneficiaries.
In addition, the provincial department finalized six trade deals with 32 coffee processing enterprises, resulting in 14 sales and trading contracts, 22 cooperation agreements for product consumption signed between provincial businesses and major distributors in other areas of the north, central and southern regions.
In order to continue implementing the project until the end of the year, Lam Dong Industry Promotion will focus on supporting the application of advanced machinery and equipment in production at select enterprises.
Vietnam is the world's second largest exporter of coffee after Brazil and the largest exporter of Robusta coffee in Asia. Around 90 percent of Vietnam's coffee production comes from the Central Highlands.
---
Related news

Vietnam's rice exports may slide after one-month high
Rice exports were the only bright part in the picture of Vietnam's farm exports in the first six months of the year. However, the achievements
Thursday. September 17th, 2020

Bạc Liêu expands cultivation of world's best rice varieties
The Cửu Long (Mekong) Delta province of Bạc Liêu has decided to expand the cultivation of ST 24 and ST 25, two local rice varieties that rank among the world's
Thursday. September 17th, 2020

Viet Nam unlikely to reach pepper export target this year
Việt Nam may not reach its pepper export goal for this year due to many difficulties, according to the Việt Nam Pepper Association (VPA).
Thursday. September 17th, 2020