Leading seafood export to sell golden goose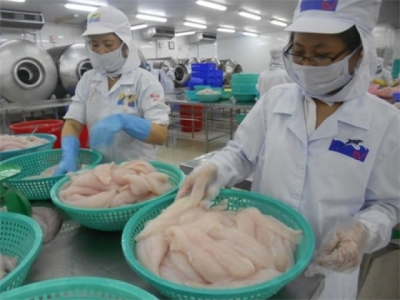 Publish date:
Tuesday. November 7th, 2017
---
Photo: Internet Archive
Hung Vuong Corporation to offload entire holding in Sao Ta Foods.
Vietnam's leading seafood processor and exporter, the Hung Vuong Corporation (HVG), has decided to sell its entire holding in its most efficient company, Sao Ta Foods.
HVG's Board of Directors has approved the sale of 21,128,000 shares, equal to 54.28 per cent of Sao Ta's capital. The decision was unexpected, as Hung Vuong said at a meeting of shareholders at the beginning of the year that it had shelved plans to sell the holding to a Japanese partner.
The company's recent business results revealed a net loss of VND132 billion ($5.8 million) for the financial year from October 1, 2016 to September 30. HVG's total debt is over VND7.9 trillion ($347.6 million), with interest payments of more than VND600 billion ($26.4 million) bringing about the $5.8 million loss.
HVG is famous as the "Tra Fish King" after conducting a series of M&A deals in the seafood industry in a short period of time. The Sao Ta sale would have been a difficult decision for HVG's leaders as it is one of the leading shrimp exporters in Vietnam and has earned major profits for HVG in recent years.
HVG also recently decided to sell some plots of lands in District 6, Ho Chi Minh City, to recover capital.
In the first nine months of this year, Sao Ta recorded its highest profits to date, with finished shrimp product output estimated at 15,441 tons worth $144 million. Pre-tax profit is estimated at VND125 billion ($5.5 million), exceeding the plan by 25 per cent increasing 60 per cent year-on-year.
Sao Ta Foods was originally a State-owned enterprise in the Mekong Delta province of Soc Trang, which started in 1996. It was equitized in 2003, and the State holding has fallen to 10.6 per cent since.
The company has generated continual profits over the years. It managed to recover its initial investment within the second year of operations and has been one of Vietnam's five leading shrimp exporters.
According to the General Department of Vietnam Customs, seafood exports in October were estimated at $733 million, bringing the volume of seafood exports in the first ten months to $6.73 billion, up 17.6 per cent over the same period of 2016.
---
Related news

Boost for fishmeal and fish oil sustainability
The aquaculture feed industry has been praised for its role in increasing the sustainability of the world's reduction fisheries.
Saturday. November 4th, 2017

Diversification in aquaculture: lessons to be learnt
A glance at FAO statistics might suggest that northern Europe's aquaculture sector is quite diverse – circa 25 species of finfish were being farmed in the UK
Saturday. November 4th, 2017

Ca Mau aims for US$1.1 billion shrimp export goal
Southern Ca Mau Province is focusing on trade promotion to satisfy its yearly target of US$1.1 billion revenue from shrimp exports, according to a provincial
Tuesday. November 7th, 2017