Japanese NGO assists Vietnamese farmers in producing safe greens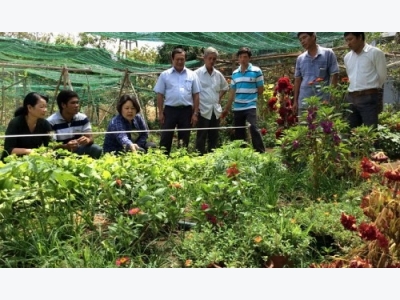 Publish date:
Monday. May 22nd, 2017
---
Ino Mayu (third left), head representative of 'Seed To Table' in Vietnam, gives instructions to farmers in An Hoa Tay Commune on how to grow Participatory Guarantee Systems-certified greens.
Environmentally conscious farmers in the Mekong Delta province of Ben Tre are eagerly adopting a Japanese-sponsored model of producing safe greens to ensure a sustainable livelihood for locals.
Over the past six months, specialists from the Japanese non-profit Seed to Table have been wholeheartedly helping farmers in An Hoa Tay Commune in Binh Dai District make the switch to organic farming and animal husbandry.
The NGO, with sponsorship from the Japanese Ministry of Foreign Affairs, is dedicated to the promotion of eco-friendly agricultural practices as a means of supporting community development in Vietnam, according to its website.
The program teaches farmers how to produce compost and herbal 'potions' that can be used as alternatives to synthetic fertilizers and conventional pesticides, as well as best practice in setting aside a portion of each harvest to use as seeds for the next crop.
Crops harvested under Seed to Table's methodology meet stringent standards for Participatory Guarantee Systems (PGS) certification, a locally focused quality assurance system based on the active participation of stakeholders and dependent on trust, social networking, and knowledge exchange.
To participate in PGS, farmers are required to work in teams, with team leaders responsible for cross-checking products harvested by other farmers and coordinators charged with carrying out regular quality inspections before any certificate to be granted.
Despite consuming more time and energy than traditional farming methods, the environmentally friendly approach helps cut production costs and yields higher profits than conventional cultivation.
At one particular PGS-certified garden owned by Ho Thi Hong, vegetables of different varieties are environed by grass hedges grown to feed goats and cows while stemming inorganic substances from the water of nearby plots.
Flowers thrive in the same beds with verdant greens including water morning glory, basella alba, gourds, and papaya trees to keep pests deterred by their smell at bay, Hong explained.
Farmers in the Mekong Delta province of Ben Tre sell their Participatory Guarantee Systems-certified greens at the 'Xanh Tu Te' (Decent Greens) market in June 2016 in Ho Chi Minh City. Courtesy of Ino Mayu
Safe insecticides made from garlic, ginger, and chili are also commonly used to keep pests from feeding on the crops.
"If we run out of wine, we can also drink the potions," an organic greens grower said with a smile.
Farmers also work at night to catch harmful worms attempting to eat their plants and many cover their veggie beds with nets to keep insects away.
According to Ho Van Chau, a member of the An Phu organic greens grower group, implementing the PGS process requires meticulous care in its early phases, such as selecting quality seeds and dipping them in warm water instead of chemicals before sowing.
Seed to Table has loaned most of the participating households at least two cows, the feces of which are composted for more than three months with grass, straw, dried fish, and a naturally occurring genus of fungi called Trichoderma to eradicate damaging viruses and kill weeds.
"We have to clear any weeds that grow by hand because weed killers are strictly prohibited under the PGS model," Hong said.
When the project first started, many farmers in the area were skeptical about the potential for profit, but after only a few months of implementing the new system, their burgeoning income has converted them to believers.
"It required hard work during the initial crops planted under the system, but our efforts have paid off in the following crops. Our produce fetches higher prices compared to conventional veggies and because the compost enriches the soil we've been able to save a lot on fertilizers and pesticides," Hong added.
Le Quang Hay, a technician from Ba Tri District's agriculture promotion agency, revealed that farmers keep meticulous records of their production process, and that the packaging bears the group's code and the group leader's phone number so consumers can easily trace the origin of their produce if they suspect any issues with its hygiene.
So far, the Seed To Table PGS project in Ben Tre has been successfully adopted in areas spanning 1,000, 2,000 and 3,000 square meters in Loc Thuan Commune in Binh Dai District, Ba Tri Town, and An Hoa Tay Commune in Ba Tri District, respectively.
The organization has provided volunteer participants with first-hand technical training and insect-repellent nets, and acts as a bridge between safe greens growers and health-conscious clients willing to pay higher prices for organically grown veggies.
Before enrolling in the program, participants are first required to submit samples of their soil and irrigation water to a quality inspection agency in Ho Chi Minh City for testing.
If their soil samples test free of chemical fertilizer residues and their irrigation water is clean enough to drink from, they are permitted to enroll in the program.
After applying the techniques for at least one year, farmers who meet rigorous standards are granted a PGS certificate by Seed to Table, though the organization is not reluctant to revoke certificates from recipients that stop conforming to the stringent process.
Most organic farmers in Binh Dai and Ba Tri report that their efforts to adhere to the process have yielded revenues 10 times higher at the Xanh Tu Te (Decent Greens) market compared to when they were using chemicals.
The sales outlet, which runs in District 3, Ho Chi Minh City on a regular basis, has provided a growing clientele with reliable access to safe food and reduced growers' dependence on intermediary businesses.
The farmers' produce is always in high demand, as many customers buy veggies in bulk to store for later use.
Ho Thi Hong, a local farmer, grows gourds next to a papaya tree to keep pests at bay. Photo: Tuoi Tre
Growers in An Phu are also allowing groups of tourists to visit their gardens and are being urged to offer scheduled tours to visitors wishing to learn about the cultivation process and taste dishes made from their quality greens.
Ino Mayu, the head representative of Seed To Table in Vietnam who has bonded with local farmers for more than two decades and speaks impeccable Vietnamese, said that she had previously launched the PGS model in localities in the northern province of Hoa Binh.
She is planning to expand the organic greens model to high schools in all districts in Ben Tre, and also introduce methods in growing safe coconuts, the province's specialty, and banana trees in Loc Thuan and Vang Quoi Dong Communes in Binh Dai District.
"We also focus on educating Vietnamese children and youths so they can become environmentally conscious citizens, sustain socio-economic growth, and transfer the technology to other Vietnamese localities," Mayu noted.
---
Related news

Vietnam returns to import some agricultural products from India
The Indian agricultural products which were suspended from import will be imported into Vietnam again.
Monday. May 22nd, 2017

Asia coffee-Vietnam premiums dip in quiet market
Coffee export markets were quiet this week as Indonesia is on holiday while premiums in Vietnam edged lower on weak demand, traders said on Thursday.
Monday. May 22nd, 2017

Seeds of revolution
A move towards high-tech agriculture, prompted by Industry 4.0, can only be good news for an agricultural economy like Vietnam.
Monday. May 22nd, 2017