How the Scottish are finding food solutions using vertical farming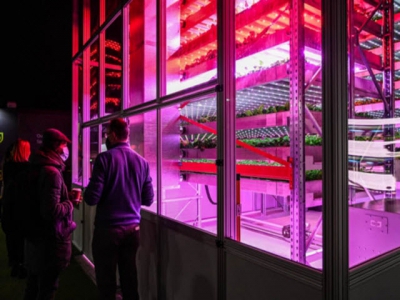 Publish date:
Monday. February 21st, 2022
---
LED lights are flashing to match world flags from around the world, a nod to the international visitors in Scotland. A robot is whizzing around the place - a display of this human-free operation.
Vertical farming can save on land, energy and water costs compared to conventional agriculture. Photo: Jack Board
This is farming meets engineering technology.
Scottish technology company, Intelligent Growth Solutions (IGS) is showcasing its vertical farming growth towers. They vary in size, but those on show in Glasgow on the sidelines of recently concluded global climate change talks stack up to 5.5m high.
Growing in trays are an array of different leafy vegetables, trees, flowers, fruit, microgreens, and seed potatoes. In this smart ecosystem, this variety of crops can grow under highly tailored, controlled conditions.
Every aspect of the growth process is controlled: light from sophisticated lighting, air being extracted and cooled for perfect temperatures and a zero water waste circular system. A mechanical lift system can be remotely controlled to move trays of different crops up and down the towers.
"We can create an entire climate. If you want to grow cherry tomatoes and basil to make pesto in Singapore, we'll just create Tuscany," said David Farker, the chief executive of IGS.
As the world focuses on pressing climate change and sustainability issues at COP26, the impacts of and on agriculture is a crucial issue.
At the talks, 45 countries signed an agreement to promote a more sustainable industry, fewer emissions and pollution and investment in agricultural science.
Agriculture, forestry and land use sectors are responsible for about a quarter of global greenhouse gas emissions and many nations will need to make steep reforms to make the carbon cuts needed to meet their Paris Agreement targets. Amid ongoing debate about traditional agriculture, urban farming is a looming solution for many cities.
IGS started in 2013 as a collaboration between a Scottish farmer and a professor. Years later, this final product is the result of millions of pounds of research and development.
Making food systems more efficient, flexible and less wasteful is key to the company's strategy in the face of deep global issues.
"The United Nations estimates that the world's global population is going to rise to 10 billion by 2050. It's not a straight line, it's an exponential curve. It means we have to grow more food in the next 30 years than the previous 10,000," Farker said.
"We do not have enough arable land and it's not close to our populations so therefore it's not sustainable to carry on agriculture in the traditional sense. We have to find a new paradigm and we have to find new technologies."
The plan for this technology is to supplement, not replace, traditional farming and empower young agricultural entrepreneurs. Singapore is a key target market and IGS plans to open an office in the city state early next year.
"One of Singapore's challenges is water. I don't think greenhouses are going to cut it," Farker said.
"We use one litre of water to grow a kilogram of lettuce. A greenhouse needs 20L, a field needs 250L. We use much, much less water and we have zero emissions.
"If you look at our footprint, each of our towers is 42 sq m, which would grow the same as 42 ha in a field and is 20 times more efficient than a greenhouse in terms of footprint," he said.
The growth towers do not come cheap though, with pricing starting at about GBP2.5 million (US$3.3 million). It leaves space for smaller players to come up with their own vertical farming solutions too.
AN UNDERGROUND APPROACH
In an underground basement, hidden below Glasgow Central Station, the growing environment could hardly be more different to the flashing lights of IGS.
In this former nightclub turned laser tag venue, Glasgow Greens, a small local start-up is taking root.
This fledgling operation was started by three engineering students in May last year. It has smaller ambitions but embodies the same attitudes about wanting to make food systems hyper-local with a lighter carbon footprint.
At the moment in this otherwise unused urban space, the small crew is growing microgreens like garlic chives, mustard wasabi, coriander and red cabbage on custom-built trays under bright LEDs and then delivering them to local restaurants.
While the city is slowly embracing alternative forms of agriculture, the co-founder of Glasgow Greens believes it is the first vertical farming operation of its kind here.
"I feel like vertical farming can definitely be part of a greater solution to generally build a more resilient food system," said Andrew Hadfield.
"Vertical farming in its current form is still quite young and there's a long way to go to make it a fully-fledged system that will be able to produce a wide range of food. But as a concept, growing food in the middle of a city and being able to distribute it really closely is a powerful thing.
"We think that alongside the pure production of food, also taking back the growing of food into the city is a way of reconnecting people with food itself," he said.
Restaurants that would usually buy microgreens wholesale might expect that produce to be grown in England or somewhere further afield in Europe.
Reducing food miles is a widespread challenge. Globally, foreign crops made up 69 per cent of country food supplies and farm production in 2016.
Additionally, about one-third of everything grown is thrown away instead of being consumed, which in itself has enormous carbon emission implications.
Scaling up this bottom-up, low-tech operation to make a greater impact on local food supplies is challenging, Hadfield said. He quickly had to learn that growing good produce is just the starting point to make vertical farming economically viable.
Microgreens are a good starting point; they grow quickly, have high value and are difficult to find in Glasgow supermarkets. And with COP26 happening in the city, it has given some new momentum to the business.
"These two weeks have been a good chance for people to reflect on how they can contribute, however much or as little as that might be. I heard a quote, 'the future, you don't just live it, you have to go and make it'," he said.
"We know what we grow is good, we just have to figure out the process."
---
Related news

Growing leeks in your garden
Most people associate leeks with soup. For this reason, many of my farmer clients grow them only for inclusion in winter soup packs. But leeks have many other
Tuesday. February 11th, 2020

Utilizing old dragon fruit branches to compost bio-organic fertilizer
The Southern Horticultural Research Institute has introduced a new bio-organic fertilizers composting process utilizing discarded dragon fruit branches.
Thursday. January 13th, 2022

How to grow hydroponic lettuce - Instructions and plant care tips
There's a reason why lettuce is one of the most popular hydroponic crops for both beginners and experts alike.
Tuesday. January 25th, 2022