Ho Chi Minh City wants to promote agricultural tourism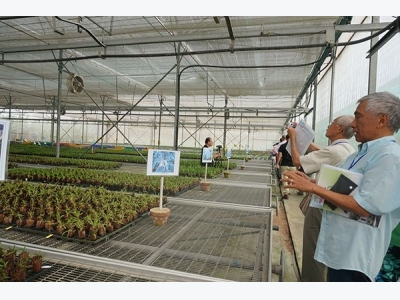 Publish date:
Monday. October 9th, 2017
---
Tourists are visiting the greenhouse flower area in the HCMC Biotechnology Center - PHOTO: DAO LOAN
The tourism and agriculture sectors in HCMC are seeking to jointly develop agricultural tourism products now that such products launched in the city have attracted a large number of tourists.
According to the municipal Department of Tourism, most of agro-tourism products are in Cu Chi and Can Gio districts. The department estimated that 100,000 tourists take agricultural tours a year.
Green Noen, a large farm in HCMC, welcomed 35,000 visitors in the first nine months of 2017 while Hoa Lua Farm has 1,000-2,000 guests a month and the Agricultural Hi-tech Park of HCMC expects to serve 14,000-15,000 tourists this year.
Nguyen Minh Tri, deputy head of the tourism planning and development division under the HCMC Department of Tourism, told a recent seminar on hi-tech agricultural tourism promotion in HCMC that tourist sites, travel companies and management agencies have not cooperated well to develop the product.
Representatives of the department, tour operators, farms and the HCMC Agricultural Hi-tech Park agreed that it is necessary to build a link among these stakeholders so that farmers and agriculture development agencies can invest in tourism services and serve tourists better while travel firms can diversify their products.
Dinh Minh Hiep, head of the Agricultural Hi-Tech Park of HCMC's management board, said the park has gained some experience from other localities to develop agri-tourism. The number of tourists coming to the park is increasing with 80% of them being students.
The HCMC Department of Tourism and the park will connect the park with Cu Chi Tunnels and offer more agricultural tours for HCMC residents.
---
Related news

Agriculture research results remain on paper
The provinces of Long An and Dong Nai have been unable to use high-quality research findings to boost agricultural development because they lack funds
Monday. October 9th, 2017

EVFTA to bring in Hungarian meats
Hungarian firms are seeking to intensify their agri-food presence in Vietnam, in response to growing demand and upcoming slashed tariffs under the EU-Vietnam
Monday. October 9th, 2017

Rice export from Can Tho City on the steep rise
Rice export shipments from the Mekong Delta city of Can Tho have surged by 22% year on year in the past three quarters to 638,000 tons worth US$262 million
Monday. October 9th, 2017