HCM City students make biodegradable products from potatoes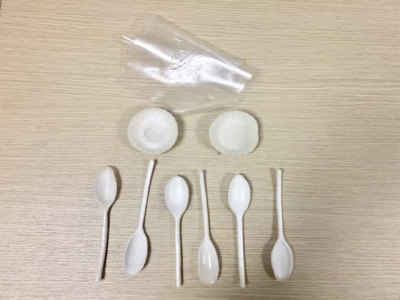 Publish date:
Friday. December 6th, 2019
---
Ho Chi Minh City — Two students from the HCM City University of Economics and Finance have made biodegradable products from potato starch in an effort to reduce the use of single-use plastic items.
Environmentally friendly products made of potato starch decompose easily and are safe for users. — VNS Photo Ngọc Diệp
Nông Văn Phước and Đặng Nguyễn Xuân Trọng are fourth-year students majoring in business administration and international trade.
Phước's school launched a business idea contest early last year which the students entered.
Reducing the negative impact of plastic waste on the environment was one of the goals of his group.
While looking for an idea for the contest, Phước noticed female students eating mixed rice paper which looked like plastic bags.
He wondered if rice paper could be used as plastic bags.
"At that time, the idea of making environmentally friendly bags came to me," Phước said.
Phước and Trọng began their practice with corn and cassava starch but they did not have success.
Then they discovered that starch extracted from potatoes could be used to make biodegradable bags.
Potato starch is mixed with water and glycerin in a formula to create a mixture.
"The formula and temperature played key roles in our success," Phước said.
The products are made by hand without a machine.
The students boil the mixture until thick, and then place it into moulds which are dried naturally under the sun for a day.
Hair dryers or fans can be used to dry the products if there is bad weather.
The biodegradable bags made from potato starch are useful, but they can only store dry items.
The students have also made spoons and small bowls from potato starch that can be used in cold or hot water for 30-45 minutes.
The products can be used for one year if they are stored at the proper temperature, Trọng said.
"Our products easily decompose within three to five months. They are totally safe for users," he said.
Two students in HCM City have made biodegradable products from potato starch. — Photo of the students
Using the starch extracted from fresh potatoes or potato starch flour bought in local markets creates products with a similar quality, Phước said.
The students have discovered that there is a large amount of potato output that fails to meet market standards and goes to waste.
"Instead of wasting ugly potatoes, people can use them to produce environmentally friendly bags," Phước said.
Potato peels, potatoes with an unsatisfactory size, and decayed potatoes can all provide starch.
"Using potato starch to make bags could help potato farmers ensure stable consumption of their products," Trọng said.
The students' idea was listed among the top 10 ideas in the Creative Idea Contest (CiC) of Việt Nam National University-HCM City in September, and entered the final round of the national SV-Start-up 2019 Competition of the Ministry of Training and Education on October 4-5.
Trọng said they improved their knowledge and skills through the contest thanks to guidance and support from lecturers in the school's economics faculty.
"Our lecturers always stand side by side with us to help us build suitable business models and marketing strategies," he said.
Seeking cooperation
The two students are now implementing procedures for registration of intellectual property rights to protect their idea.
They are also seeking cooperation from businesses to help them manufacture the biodegradable bags and bring them to the market.
"We need more support for our research to improve the quality of our products, and make new products," Phước said.
Some enterprises have already run tests on their products and have asked for business cooperation.
"We are willing to cooperate with firms that attach great importance to environmental protection and recycled products," Trọng said.
Because the price of their product is higher than plastic bags, the biodegradable bags are only suited for some segments of the domestic market, he said.
The students are also targeting international markets where the use of single-use plastic products has been banned or limited.
---
Related news

Restorative aquaculture: can farming shellfish and seaweed provide habitat benefits?
While aquaculture is often associated with degrading water quality, invasive species introductions and the destruction of important coastal habitats
Tuesday. November 26th, 2019

In-pond raceway systems introduced in Pakistan
Aquaculture in Pakistan is a fast-emerging sector that has developed over the last decade and has gradually evolved from extensive culture to semi-intensive
Thursday. November 28th, 2019

Solar dryer dome technology solution enhance climate change resilience
Solar Dryer Parabola Dome is the result of 30 years of research by Dr. Serm Janjai of Silpakorn University.
Thursday. December 5th, 2019