Developing agriculture 4.0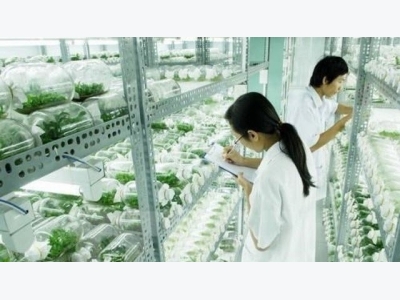 Publish date:
Friday. September 29th, 2017
---
Illustrative image (Photo: VNA)
Agriculture is a foundation, a development axis, and a strong pillar of the economy. Over the years, the sector has recorded continuous growth with important achievements, contributing to nationwide economic stability, reducing poverty and improving the standard of living for rural residents.
With enormous progress, Vietnam has emerged as one of the world's leading exporters of agricultural commodities and is among the top five for aquatic products, rice, coffee, tea, cashews, black pepper, rubber and cassava. But it is facing major demographic, economic and environmental challenges that require changes in order to generate more economic value whilst using fewer natural, human and other resources, as well as the need to restructure the patterns of production and the organisation of the supply chain.
Agricultural growth has mostly relied on increasing cultivation areas and a more intensive use of inputs, such as fertilisers and natural resources, such as water. The sector is experiencing a low quality of growth, as shown by low profits for farmers, underemployment among agricultural workers, unreliable product quality, alongside poor food safety and limited technological innovation.
Developing high-tech agriculture is an important task and also the inevitable trend of Vietnam's socioeconomic development strategies in the context of deeper international integration.
Together with the foundation of rapid development and the high-level integration of scientific achievements and modern technologies in the sectors of digitalisation, bio-technology and physics, the Fourth Industrial Revolution is expected to remarkably change the appearance of manufacturing in the world and Vietnam in the near future. This model will help enterprises increase their productivity, flexibility and efficiency, in addition to shortening production time in making products available in the market, resulting in the improvement of an enterprise's competitiveness.
The revolution could create both opportunities and challenges for Vietnam. If Vietnam doesn't catch up with the world and the region in terms of development, it would face challenges and the effects of backward technologies, decreasing production, abundant skilled labour and copyright violation.
Hi-tech farming is considered as one of the driving factors for sustainable agricultural development in line with the government's policy. Since the beginning of 2017, Prime Minister Nguyen Xuan Phuc has signed a resolution on providing a credit package worth VND100 trillion (US$4.4 billion) to invest in the development of high-tech agriculture at lower than market rates. The resolution aims to encourage, support and promote the development of hi-tech farming applications.
Following the Prime Minister's instruction on supporting high-tech agriculture development late last year, the SBV has instructed banks to apply preferential loans to high-tech and clean agricultural projects. Interest rates of the loans will be 0.5-1.5% per year lower than other average lending rates. Meanwhile, the lending interest rate for short-term loans averages at 6-9% per year and 9-11% for medium and long-term loans.
Science and technology have been flagged as an effective solution for agricultural development, but the most urgent task that should be carried out in the near future is establishing an effective roadmap for the sector's development in order to help the sector promote its important role as a strong pillar in the economy.
In order to promote the economic strength of agriculture, it is necessary to have specific directions, mechanisms and policies to attract the relevant economic sectors and scientific enterprises to invest in technological innovation and high-tech applications for agricultural production.
Therefore, it is necessary to restructure the country's agriculture industry towards sustainable and effective development, while increasing the income and improving the standard of living for rural residents and farmers should be associated with the building of new-style rural areas.
Local authorities should create favourable conditions to encourage the application of advanced technologies and machinery in agricultural production in order to reduce costs and improve the productivity, quality, and competitiveness of agricultural products.
---
Related news

Dragon fruit prices rise sharply
Dragon fruit prices at Chợ Gạo Dragon Fruit Co-operative in the southern province of Tiền Giang are increasing sharply, creating economic advantages for farmers
Thursday. September 28th, 2017

Rice exporters advised to diversify markets
Vietnam exported more than 4.5 million tonnes of rice in the first nine months of this year for 2 billion USD, up 19.6 percent in volume and 18 percent
Friday. September 29th, 2017

Ho Chi Minh City seeks solutions to promote agriculture tourism
Agricultural tourism is one of the new tourism products of Ho Chi Minh City with high potential of development, but providers of this kind of tourism are facing
Friday. September 29th, 2017