China to lower tariffs on many imported seafood products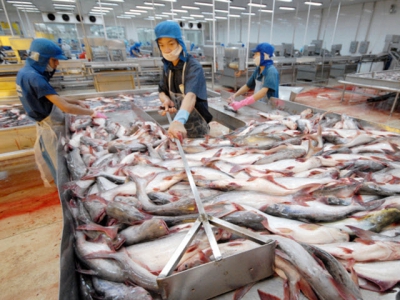 Author:
Pham Hieu - Translated by Mai Tham
Publish date:
Thursday. March 3rd, 2022
---
China will lower tariffs on seafood products for 2022. The aim is to help the consumers to access high-quality seafood with cheap prices. The decision will take effect on January 1, 2022.
China will lower tariffs on several high-quality seafood products.
According to Vietnam Association of Seafood Exporters and Producers (VASEP) the Customs Tariff Commission of the State Council of China on December 15 announced a plan on tariff adjustment for 2022.
The Chinese Finance Ministry said it will impose tax rates under the Most-Favored-Nation (MFN also known as normal trade relations) on a wide range of products. Accordingly, the country will lower tariffs on a number of consumer goods. The Ministry of Finance of China declared that "salmon and cod are high-quality aquatic products and will enjoy duty reductions to meet people's needs for a better life. While creating a good atmosphere for the Beijing Winter Olympics, it will respond to the trend of consumption upgrades."
As one of China's important imported seafood, the import tariff of fresh Atlantic salmon (HS code: 03021410) will be reduced to 7%. The tariff on Arctic shrimp (HS code: 0361640) will be reduced to 2%. For the frozen Alaska pollock (HS code: 03036700) import tariff rate is lowered to 2%. To boost trade openness in accordance with the free trade agreements and preferential trade agreements signed between China and relevant countries and regions, duty reductions will be imposed on a number of products from 29 countries and regions from early 2022.
Under the bilateral trade agreement between China and New Zealand, Peru, Costa Rica, Switzerland, Iceland, South Korea, Australia, Pakistan and Georgia and under the Asia-Pacific Trade Agreement (APTA), the duties will be further reduced. The free trade agreement (FTA) signed between China and Cambodia will take effect on Jan. 1, 2022 and tariffs on some certain products will be lowered.
---
Related news

Shrimp sector eyes the export target of US$ 4 billion in 2022
Overcome many difficulties in 2021, shrimp sector has set solutions to go forwards to reach the export target of US$ 4 billion in value in 2022.
Monday. February 28th, 2022

Promoting sales of cold-water fish in supermarkets
The potential for cold-water fish development in Vietnam is also known to be very large, concentrated mainly in 3 regions including provinces of the Northern
Tuesday. March 1st, 2022

Seafood exports projected to exceed USD 8.8 billion
Seafood exports rebounded sharply in November and continued their upward trend in December, bringing total exports up against the previous year's level.
Thursday. March 3rd, 2022