Building trust, from farmer to the consumer plate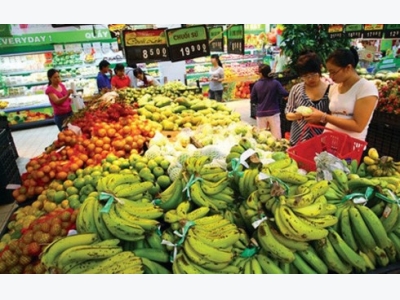 Publish date:
Friday. August 11th, 2017
---
Local smallholders in the food production industry in Vietnam looking to increase their earnings can now benefit from a new low-cost certification scheme that focuses on helping farmers sell their products under an organic label.
It's all part of an initiative to build trust between participants in the food supply chain – from smallholder farmer to the consumer plate – said experts at a recent workshop in Hanoi.
The overarching goal of the workshop was to provide farmers with information and training on how to better access local markets with organic foodstuffs while boosting their sales and earnings.
Participatory guarantee systems, or PGS for short, act as locally self-implemented organic labels and offer an alternative to costlier third-party certifications for organic fruit, vegetables and other produce, explained speakers at the conference.
About 90% of the food produced in Vietnam is processed by small households that face numerous challenges such as lack of working capital, inadequate amount of land, poor infrastructure, inability to use information technology and high transport costs, among others.
Supermarkets are often disinclined to work with smallholders because of their inability to provide quality produce on a timely and economical basis. Most notably the larger stores are turned off by the lack of transparency regarding compliance with food safety standards.
The workshop was held against the backdrop of a World Bank report titled – Vietnam Food Safety Risks Management: Challenges and Opportunities – released earlier in 2017 that shed some light on the most critical food safety challenges facing the Southeast Asian country.
The World Bank report found that most consumer concerns about chemical contamination in the food chain were unwarranted and the result of false media reports and misinformation.
The 'food scare' in Vietnam, said the report, has also been perpetuated by competitors making false claims about the safety of the country's produce.
While chemical contamination is not the problem it is portrayed to be in the media, however, the World Bank report did mention that – microbial contamination – is a legitimate concern that can and should be dealt with appropriately.
The report recommended the adoption of cost effective improved food safety measures such as PGS and the development of a farm to consumer plate approach to build the capacity of all participants in the food production chain.
PGS is a quality control scheme developed by International Federation of Organic Agriculture Movements under which a range of local stakeholders—particularly farmers, producers and consumers—are actively engaged to guarantee the quality and safety of the food produced.
The establishment of PGS among farmers will result in more consumers being assured of the organic quality of vegetables and allow farmers to affix an organic logo on the packaging of the marketed produce.
One of the best examples of a PGS in Vietnam is the Tu Xa Cooperative which currently sells safe vegetables to VinEco and VinMart. Another is the Trac Van Collaborative Group, which sells organic vegetables to the Hanoi-based chain Bac Tom.
In a nutshell PGS is all about increasing consumer trust in the food system and smallholder farmers by opening to scrutiny and increasing the transparency of the food supply chain.
It uses farmers, consumers and inspectors working collectively to continually cross check the supply chain for food safety compliance.
As part of the system, representatives of supermarkets and other buyers are encouraged to regularly visit the PGS farms and check their documentation so that transparency and trust can be established.
Once that trust is formed the additional monetary cost to run a PGS as compared to a traditional Vietnamese farm is virtually zero, said the experts at the workshop.
Farmers will gain access to markets because their products are certified as PGS and they can charge higher prices for their fruit, vegetables and other produce while building a reputation for superior quality.
---
Related news

Annual rice exports to be $2.5bn by 2030
Rice exports are expected to earn Vietnam from $2.3 to $2.5 billion annually during the 2021-2030 period
Friday. August 11th, 2017
Sneaky Chinese buyers swaying Vietnam's pepper prices
The price of pepper in Vietnam has gone up and down recently, allegedly due to unexpected Chinese purchases
Friday. August 11th, 2017

HCM City, Japan's Hokkaido step up agricultural, aquatic cooperation
Ho Chi Minh City wants to enhance cooperation with businesses in Japan's Hokkaido prefecture in agriculture, fishing and high-tech development
Friday. August 11th, 2017