Biotechnology - how it can help farmers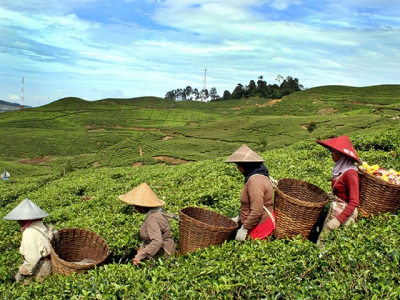 Publish date:
Tuesday. December 3rd, 2019
---
Farmers will not be able to feed the world's growing population unless they are allowed to use biotechnology.
More than 800 million people in the world do not have enough to eat. Another two billion get enough to eat, but suffer from micronutrient deficiency, or 'hidden hunger'. This number will increase as food production grows at a slower rate than food demand.
In February, a conference on the role of biotechnology in sustainable food production was held by the UN Food and Agriculture Organization (FAO).
According to Prof Louise Fresco from the Netherlands, the genomes of 80 crop and 140 animal species are already fully sequenced. This means that genetic improvement can be achieved by editing the genome without the introduction of foreign DNA, as is done with genetically modified organisms.
Although it will not be possible to prevent enteric fermentation completely, it is possible to limit this by up to 33%, thanks to research on greenhouse gas (GHG) emissions in livestock.
Biotechnology also holds the key to limiting the use of fertilisers, pesticides and herbicides. The best-known example is the planting of GM maize that is resistant to bollworms. This has brought about major savings in insecticide use.
However, biotechnology and genetic manipulation face opposition from a few highly influential groups. While some of their concerns are legitimate, their opposition has resulted in much slower development of biotechnologies.
Also, while GM seed can help resource- poor farmers produce more, its use is prohibited in some developing countries.
This is unfortunate.
The development of genetically modified organisms is strictly regulated in most countries, South Africa included. The safety and environmental impact of GMOs has been tested extensively, and in a few extreme cases some negative impact was identified. But scientists believe that newer biotechnology, such as the editing of gene sequences, should not be as highly regulated.
Complex technology has sometimes gone badly wrong, of course; Chernobyl is one such extreme case. This is why governments adopt the 'precautionary principle' when it comes to biotech – that is, if possible consequences are unknown, it is better to be careful. This is why some biotechnology is licensed for limited use only.
Retail's long shadow
All retailers sell food products that are inherently the same. They have to differentiate these to convince consumers to buy their products rather than those of their competitors. Non-GM products became a handy way of doing this.
While the consumer has the right to choose whatever he or she wishes to buy, it is unfortunate that retailers' promotion of non-GM products has resulted in a general suspicion of all biotech products. As I have said, we need biotechnology to feed the world's ever-growing population.
Retailers who style themselves as 'environmentally-friendly' and 'caring' should probably re-evaluate the impact of their opposition to GM products on the environment and food prices.
Implications for farmers
Agricultural product prices grow at a slower rate than input prices. Farmers are thus continually forced to produce more with the same quantity of inputs to maintain profitability.
From a farmer's viewpoint, sustainability is the same as profitability. Farmers need modern biotechnology to achieve this. Rather than creating suspicion about biotechnology, retailers would do well to educate consumers about the benefits of modern biotechnology.
They could use one of the first examples of the successful application of a genetically modified organism, namely the use of artificial rennet in cheese production. Nearly all the cheeses sold by retailers are made with this GM product.
---
Related news

Implementation of CPTPP and EVFTA: Vietnamese agricultural products overcome technical
Implementation of CPTPP and EVFTA: Vietnamese agricultural products overcome technical barriers to dominate global market
Monday. December 2nd, 2019

Dak Lak needs clear direction for organic agriculture: official
The Central Highlands province of Dak Lak has many advantages and potential to develop organic agriculture, but the province still lacks clear development
Tuesday. December 3rd, 2019

Tea export price enjoys drastic rise in Chinese market
The average export price of tea in the Chinese market during the first nine months of the year has increased sharply by 66.2 per cent to over US$3,384 per kilo
Tuesday. December 3rd, 2019