Asia Coffee-Vietnam dull as holiday mood drags, Indonesia subdued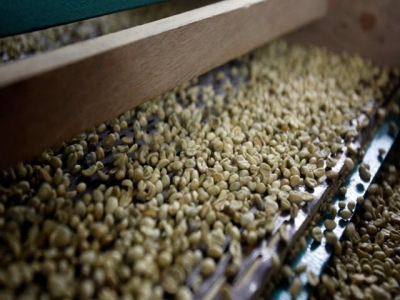 Publish date:
Saturday. March 21st, 2020
---
Trade in Asian coffee markets in Vietnam was sluggish amid post-holiday sentiment, while stocks in Indonesia remained low, traders said on Thursday.
Coffee beans are sorted by size at a coffee factory in Hanoi, Vietnam November 22, 2016. Photo: Reuters
Farmers in the Central Highlands, Vietnam's largest coffee-growing area, sold coffee at 31,000-31,500 dong ($1.34-$1.36) per kg, compared with 32,300-32,500 dong range in the week before the Lunar New Year.
"Trading is yet to return normal after the long holiday," said a trader based in the coffee belt. "Some of the buyers are hoarding the beans on expectations of higher prices."
Meanwhile, farmers were not willing to sell beans at this price, which traders said was not enough to cover the production cost, while some growers have already sold passion fruits or durians, planted alongside coffee trees, to cover their needs.
Coffee exports from Vietnam, the world's biggest producer of the robusta bean, dived 30.6% from a year earlier to 140,000 tonnes in January, official data showed on Wednesday.
May robusta coffee settled down $20, or 1.5%, at $1,317 per tonne on Wednesday.
Traders in Vietnam offered 5% black and broken grade 2 robusta at $80-$90 premium per tonne to the May contract on Thursday, compared with the $70-$80 premium to the March contract two weeks ago.
Meanwhile, Indonesia's grade 4 defect 80 robusta beans were offered at premiums of $240-$250 to the March contract this week, a trader in Sumatra's Lampung province said. In comparison, beans were offered with $220-$250 premiums two weeks ago.
"Trade is still quiet since supply is very limited," the trader said.
---
Related news

Pepper price to remain low this year
Pepper prices this year are unlikely to recover after a strong reduction in 2019 due to abundant supply.
Friday. March 20th, 2020

Businesses crucial to future development of agricultural sector
Strong participation among domestic businesses in the agricultural field has proved that the sector is full of promise whilst enjoying a number of advantages
Friday. March 20th, 2020
Agriculture under digital era
In the past, the agriculture was attached to the image of a farmer working hard on the fields. Nowadays, the technology application helps renovate the productio
Friday. March 20th, 2020