An 8X guy started up with the model of clean food production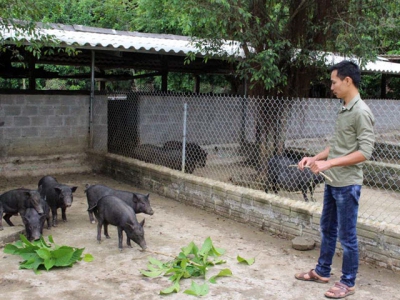 Publish date:
Wednesday. November 28th, 2018
---
An 8X guy Bui Huy Chuong, 1984, in Minh Son village, Yen Tri commune (Yen Thuy) started to make his passion of producing clean food to provide for consumers.
Bui Huy Chuong, Minh Son village, Yen Tri commune (Yen Thuy) use herbs as food to limit the disease to wild boars.
In 2013, Chuong began to implement the model of raising wild boars. His initial fund was more than 100 million VND to build facilities and buy breeding pigs. According to Chuong, the most difficult thing is choosing the standard breeding pigs. Therefore, he did not hesitate to go to Lac Son and Luong Son districts to buy standardized sows. Each of 3 mother pigs gave birth to 8 pigs, then he continued to select the standard pigs to breed, he sold the rest as commercial pigs.
After 5 years, now Chuong's economic model consists of more than 2 hectares of 14 pig cages and a pond surface of 3,600 m2, the rest is the planting land. At present, Chuong has 11 sows, 50 commercial pigs; 0.5 tons of fish with varieties, such as hypophthalmichthys, carp, grass amurs, etc. Each year, reducing the investment costs, his clean production model brought about 200 million VND in profit.
The price of 1 kg of wild boar varies from 120,000 to 130,000 VND. Even on the Lunar New Year occasion, Chuong did not have enough products to sell. Many companies want to sign long contracts in large quantities but he dares not to sign because he cannot make enough supply for businesses. The clean forest boar brand is famous throughout and outside the province. Despite the limited number of clean pigs, Chuong can only provide for familiar traders who come and buy directly at his house.
So where is the decisive element of the clean pig brand of the 8X guy. Mr. Bui Huy Chuong shared the secret: To succeed and have a firm place in the market, the first thing is to create clean products, good quality, meet the requirements of consumers. To make better quality of the pork, I am interested in food sources. I have researched and applied microbial fermentation process from rice and corn bran that Yen Thuy people made. In addition, I invested in growing herbs to feed pigs to provide protein and prevent many diseases, strengthening resistance to animals.
---
Related news

Bà Rịa–Vũng Tàu hi-tech animal farms' excellent performance
The development of hi-tech farms for large-scale animal husbandry in Bà Rịa–Vũng Tàu Province has reduced costs and improved livestock quality
Tuesday. November 27th, 2018
High-tech boost vital for Vietnam's farming in 21st century
While it helps increase productivity, minimize cost and prevent land and water waste, high technology application in agricultural production is limited and must
Wednesday. November 28th, 2018

Bac Giang maintains 28,000 hectares of lychee cultivation in 2019
The plan of lychee production in 2019, covering  28,000 hectares with the expected output of 6 tonnes per hectare and total productivity of 168,000 tonnes
Wednesday. November 28th, 2018